Planning a visit to Budapest this year? Fancy heading to a match in Hungary's capital? Sure, it might not be Old Trafford on a Saturday afternoon or a Champions League encounter at the Bernabéu, but Hungarian football has its own unique charms. Here's the lowdown on how and where to see the beautiful game. Whether you want a fiery top-flight derby or a unique grassroots experiece, this article has got you covered.
Ferencváros vs. Újpest – Hungary's bitterest rivalry
If you're looking for the full, blood-and-guts experience you can try checking out the Budapest derby between Hungary's biggest teams. Ferencváros (or Fradi) and Újpest have been at each other's throats for over 100 years and the communist regime of the mid-20th century only intensified the rivalry, as Újpest's links with the Ministry of the Interior gave Ferencváros a further axe to grind against their northern neighbours.
Tickets are harder to come by for this one and require background checks. If the match is at Ferencváros's home – The Groupama Arena – you'll need a member's card (also known as a clubcard) from the stadium. Going in person is the only way to get this, and it costs 1000ft (€3) on non-matchdays (closed Mondays and non-matchday Sundays) or 1500ft if you're going on the day (beware queues and bring photo ID!).
Újpest play at the Szusza Ferenc Stadium in the north of the city – again bring photo ID to buy a ticket. I've read that a member's card is not mandatory for non-Hungarians, but in my experience it's always better to be safe than sorry if it's derby day.
Home or away, I'd recommend getting your tickets before the game for this particular matchup – the Hungarian League Website has more info.
For other matches the queues will be much shorter and there's no need to buy in advance, but ID (and officially a member's card for Ferencváros – remember, this can be bought on the day) is still needed. Tickets for Fradi are usually in the 2000-3000ft range – that's around €6-10, for Újpest it's between 1000 and 3000ft depending on the match.
Vasas, Honved and MTK – Budapest's other teams
If you want to see football in a slightly less fraught environment, Budapest has three other big teams who are usually found in one of the country's top two divisions.
Honvéd FC are based in Kispest in the south of the Budapest, but are currently playing at MTK's Hidegkuti Nándor Stadium while their own ground is being rebuilt. The ex-Army team recently won their first league title in 25 years in 2017, and are famous for Ferenc Puskás' legendary stint at the club – he scored over 350 goals during his time there.
Vasas were almost unbeatable in the early 1960s, and have recently moved to the brand new Rudolf Illovszky Stadium in District XIII. One of the easiest grounds to visit, a quick hop on the 105 bus from the city centre will get you there in no time. By far their most famous player is the great László Kubala – the man who built the Nou Camp and scored 280 goals for Barcelona. Vasas' glory days may be behind them (for the moment at least they're in the second tier), but they're a great community club with a passionate fanbase.
MTK Budapest round out the big boys of the city and are another easy team to find – simply jump on the number 1 tram (that's tram – not metro) to the aforementioned Hidegkuti Nándor Stadium. MTK have the distiction of being one of only two Hungarian teams to reach a major European final (the other being Ferencváros), losing 1-0 to Sporting in the replay of the European Cup Winner's Cup after drawing the first game. They're currently (as of early 2019) in the second division but are riding high and will probably be back up before long.
For these teams it's almost always fine to turn up on the day with photo ID and get in without any problems. If it's a Budapest derby you might want to turn up a little early, but there's no need to book in advance. Tickets are usually between 1000-2000ft.
Csepel SC – The historic club that fell from grace
Delving further down the pyramid (and further out of the city centre), Csepel are four-time Hungarian champions who gave the world players such as Zoltán Czibor and József Tóth of the famous Hungarian Golden Team. Unfortunately at the time of writing they're in the regional tier of the Hungarian league system and their glory days are just a memory. If you want to see historic club at a grassroots level, the Béke téri Stadium hosts their games (get the H7 train from Boráros tér). Needless to say you don't need to buy in advance.
Grassroots Activism – Mahatma Gandhi African Stars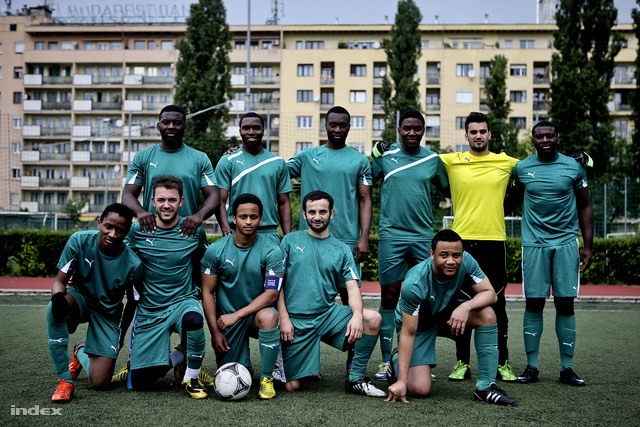 Our final team are as grassroots as they come, making even a trip to Csepel seem like an evening in Madrid. Mahatma Gandhi African Stars are a team made up of foreign students and migrants, and their mission is to help their players integrate into the local community. They take place in numerous Football Against Racism initiatives and even won the World Cup Against Racism held in Italy in 2006. It's a fantastic initiative led by the Mahatma Gandhi Human Rights Organisation, who are at the forefront of a huge number of worthy causes in the city. Last I checked they played their matches at the Dr. Koltai Jenő Sportközpont in Buda, but it might be worth checking their Facebook page for more details.